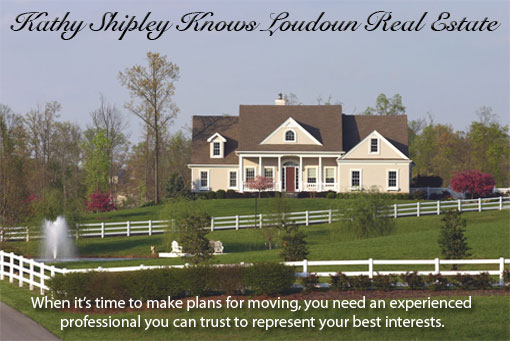 Kathy Shipley has built her reputation on practicing the values of honesty, integrity, and service. With an unwavering commitment to excellence, she will help you through the entire process of buying and selling real estate. With over 20 years of experience in real estate, Kathy knows how to obtain the best deal for your home in today's challenging market.
People choose Kathy for her proven competence, confidence, and style. Her attention to detail is a quality you will come to appreciate when making one of life's biggest investments. Kathy can assist you with Home Purchases and Sales, Income Property, and 1031 Exchanges.
Serving Loudoun County and the surrounding communities, Kathy believes that a handshake still means something and God, family, and friends are everything!
Whether you are relocating to Loudoun County, an experienced investor, or a local home owner thinking of selling and or buying, you will find all the help you need in Kathy.
Please feel free to browse through the site to explore Loudoun County and its surrounding communities. Bookmark the site for future reference and contact Kathy when you are ready to make a move.